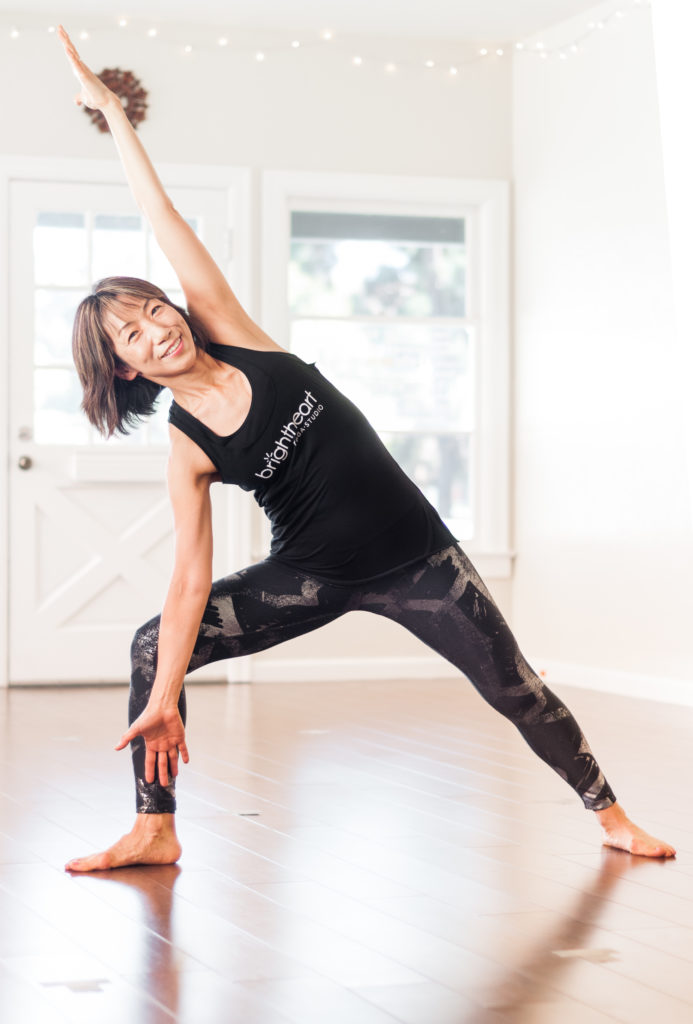 About Me
Where did you grow up?
I grew up in Kobe, Japan.  
Kobe is a sister city of Seattle – with easy access to the ocean and mountains, not too big, not too small, a variety of food/restaurants to enjoy.
Came to the US about 30 years ago to go to grad school and ended up staying -working, marrying, having family  (!) – east coast 13 yrs, CA 17 yrs already…
What drives you to teach yoga?
I feel fulfilled when I can positively affect and help people.  Teaching yoga is one of the ways to do so.  My mom played a big role in my decision to practice and teach yoga.
My mom in Japan started taking yoga class over 30 years ago.  She has knee issues now, but still practices yoga, using a chair, with a group of active adults, which has been inspiring and motivating to me.  About 6 years ago, I started teaching group exercise classes (Zumba – cardio dance fitness class, toning class).  At that time, I said to my husband and myself, I'd like to teach yoga

in 5 years

as I saw the benefits my mother was experiencing from practicing yoga in her senior years.  I took yoga teacher training early last year, and started teaching yoga right after the training.  I feel very grateful and inspired, learning from other yogis both as a student and a teacher.
What are you passionate about?
Helping people get fit and healthier physically and mentally is my passion.  I'd like to make yoga accessible to everyone so that more people can experience its benefits.  
What's your favorite way to recharge outside of yoga?
Learning new moves to the world music from my favorite Zumba choreographers and then teaching/sharing them with my students.
Hiking, cooking (both meditative).  Watching late night shows/comedy (laughing would lower stress level.)
What is your favorite part about teaching at Bright Heart?
I love people – students and teachers, yogis in this Bright Heart Yoga community which is very welcoming, friendly, fun, open, inclusive and supportive.  Teaching at Bright Heart gives me opportunities to connect with people I admire and respect there.
Is there anything you would like to do or accomplish in your life that you haven't done yet? 
Live close to the Canadian Rockies.  Study Spanish and become fluent. 
My dream in my early twenties was to live in Vancouver some day (it could still happen — some day!?).  Why?  I traveled to Vancouver and the Canadian Rockies, fell in love with Canada.  
Another thing I'd like to do is to learn Spanish seriously (I took Spanish 101 and loved it, but didn't continue studying).  I've been dancing to the Latin music in group exercise (Zumba) classes I teach and understand some words, but I'd love to be able to hear the lyrics and feel the music more.