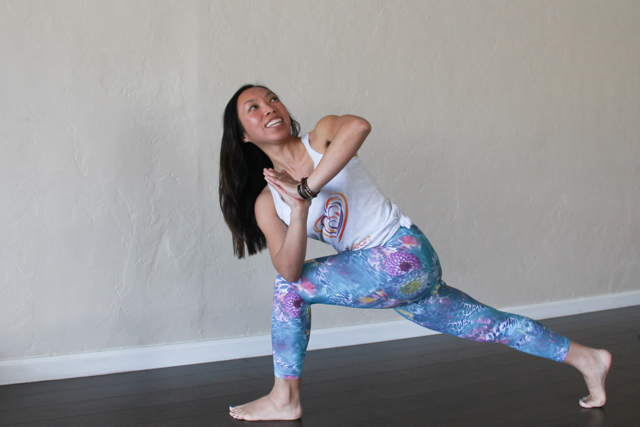 Nikki discovered yoga in 2001 while searching for alternate ways to cope with her carpal tunnel syndrome.
Yoga eventually became a significant part of her life.  Not only did yoga help heal her carpal tunnel pain, yoga also became a crucial support system through both of her pregnancies and a haven of possibilities after she got laid off from her high tech corporate job.   Nikki believes yoga not only strengthens your body but also your mind and pushes you to move through your blockages by giving you a fresh perspective in which you can see yourself, your life, and your potential.
Nikki is the director of Yoga Inside Out, a 200hr Registered Yoga School offering power vinyasa yoga teacher trainings.   For more information on Nikki or yoga teacher trainings, visit:  www.yogainsideout.com
Secret super power:  I have jet speed metabolism.
Best advice: If you really really really want it, there's always a way.
Guilty pleasure: cheese, wine and anything dark chocolate especially Chocolove's sea salt dark chocolate almond bars
Yoga pose that challenges you the most: lotus, probably because I don't like to sit still in any sitting meditation type postures
Trainings: E-RYT 500hr (200hr RYT Certified Baptiste Power Vinyasa Yoga with Baron Baptiste and 300hr RYT thru Wild Abundant Life with Deborah Williamson), 100hr Ashtanga Vinyasa Yoga with Tim Miller, Certified Yoga Tune Up® with Jill Miller.